Get your Vitamin C dose with our delicious mango mojito!
It was finally time for my vacation to Hawaii. I had been looking forward to it for months. As soon as I got off the plane, I could smell the sweet mangoes in the air. I couldn't wait to get to my hotel and try one of those delicious-looking mango mojitos.
I checked into my hotel and headed straight for the pool bar. The bartender greeted me with a smile and handed me a frosty drink. It was even better than I had imagined!
The sweet mango flavor blended perfectly with the lime and mint. I sipped on my drink and enjoyed the warm sun and gentle breeze. What a lovely taste, I cannot forget it. Here is my best mango flavor recipe; you can try it at home, as I learned from Hawaii Chef.
Refreshing Mango Mojito
A refreshing mango mojito is the perfect summer cocktail. The sweetness of the mango pairs perfectly with the minty freshness of the mojito. To make a mango mojito, start by muddling mint leaves and sugar in the bottom of a glass.
Add ice and rum, then top with mango juice and sparkling water. Garnish with a slice of mango and a sprig of mint, and enjoy!
Try some of my other recommended recipes, coconut-watermelon mojito, Painkiller, and coconut margarita; you will hug me once you enjoy them.
Why You love mango mojito Recipe
The mango mojito is a refreshing and delicious cocktail, like my raspberry mojito recipe.
The sweetness of the mango pairs perfectly with the mint and lime, and the rum gives it a nice kick.
This recipe is very easy to make and only requires a few ingredients that you likely already have in your kitchen.
This cocktail is perfect for entertaining, as it can be made ahead of time and served to your guests without any hassle.
The mango mojito is a unique twist on the classic mojito and is sure to be a hit with everyone who tries it.
Ingredients: Refreshing and Natural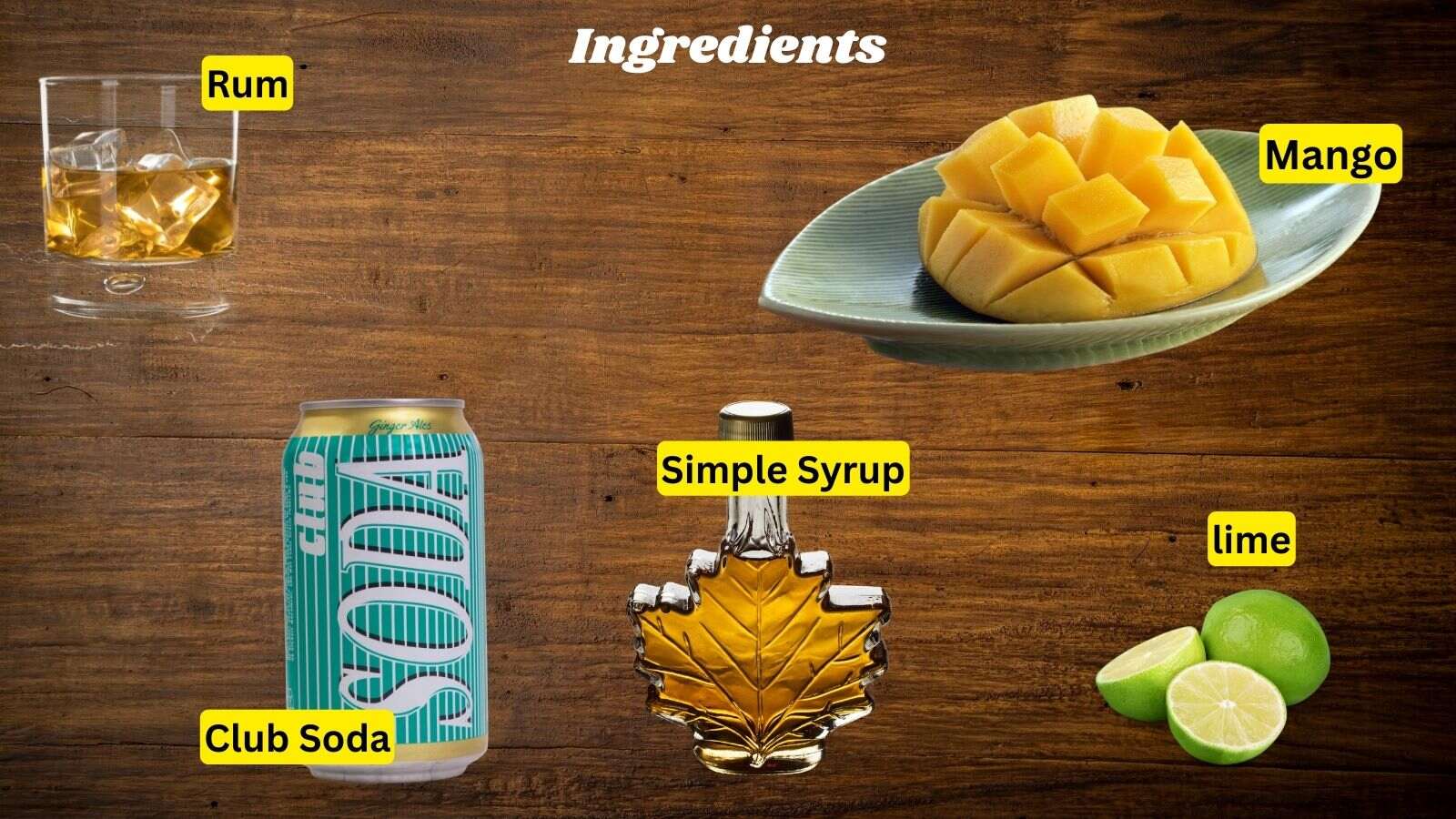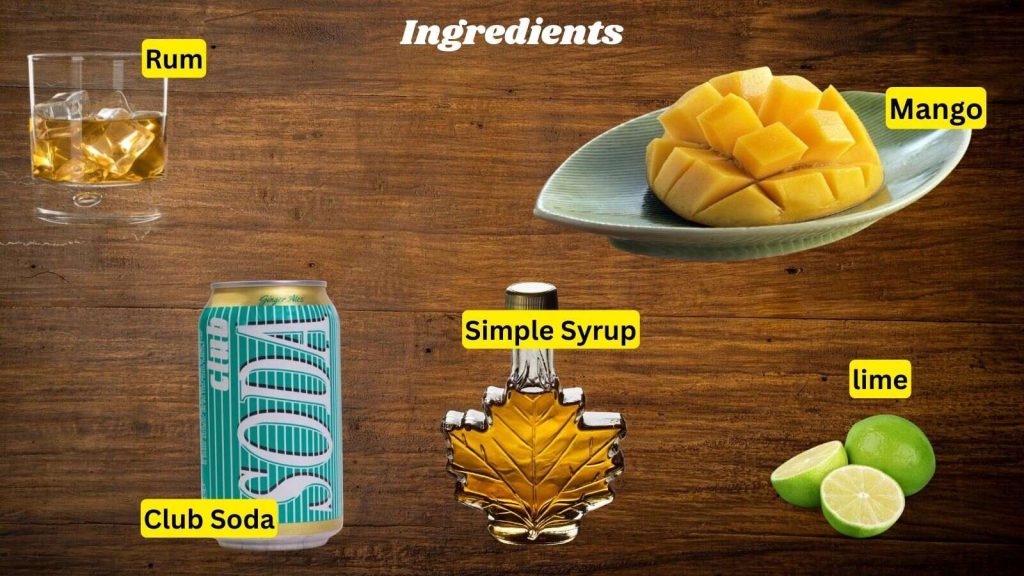 You won't be able to get enough of this refreshing drink, thanks in part because it only requires five ingredients!
1. Rum
Rum is a distilled alcoholic beverage made from sugarcane juice or molasses. It is typically aged in oak barrels for a minimum of one year. Rum is popular in cocktails and is often used as a base spirit in mixed drinks.
2. Mango
Mango is a tropical fruit that is high in vitamins A and C. It is often used in desserts and sweet dishes but can also be used in savory dishes. Mango is a popular ingredient in cocktails and can be used to make a variety of different drinks.
3. Lime
Lime is a citrus fruit that is high in vitamin C. It is often used as a garnish or to add flavor to cocktails and other drinks. Lime juice can also be used to make marinades or dressings for salads and other dishes.
4. Mint
Mint is an herb that has a refreshing flavor. It can be used to make teas and cocktails or added to other dishes for flavor. Mint leaves can also be used as a garnish for cocktails or other drinks.
5. Simple Syrup
Simple syrup is a liquid made from equal parts sugar and water that have been dissolved together. It is often used to sweeten cocktails and other drinks. Simple syrup can also be flavored with various ingredients such as vanilla, mint, or citrus fruits.
Step by Step mango mojito Recipe
1. Gather your ingredients. For this recipe, you will need the following:
2 oz white rum
1 oz lime juice
1/2 oz simple syrup
3-4 slices of mango
6-8 mint leaves
Club soda
2. Fill a glass with ice and add the mango slices. Use a muddler or the back of a spoon to mash the mango slices.
3. Add the rum, lime juice, and simple syrup to the glass and stir well.
4. Add the mint leaves and club soda and stir again.
5. Garnish with a slice of lime and a sprig of mint, and enjoy!
Mango Mojito Recipe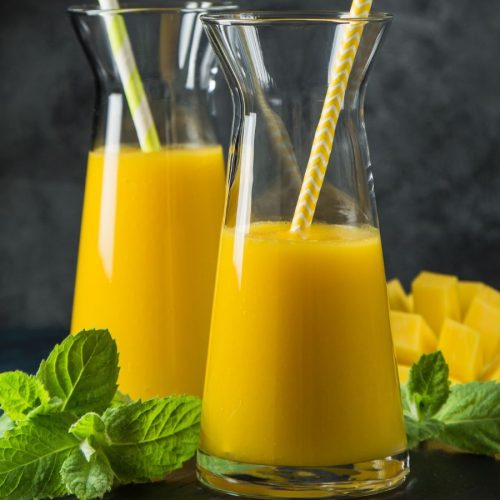 Fresh Mango Mojito Recipe 
If you're looking for a refreshing drink that's perfect for summer, look no further than the mango mojito. This cocktail is made with fresh mango, lime juice, and mint, and it's sure to cool you down on a hot day. Best of all, it's easy to make and only requires a few simple ingredients. So next time you're looking for something to drink, give this delicious mojito recipe a try. You won't be disappointed!
Print
Pin
Equipment
Small Measuring Cup

Bar Spoon

Muddler

Highball Glass 
Ingredients
1

mango

1

lime

1

sprig mint

1/2

oz

white rum

club soda
Instructions
Cut the mango in half and remove the pit.

Cut the lime in half and squeeze the juice into a glass.

Add the mint and rum to the glass.

Top with club soda and enjoy!
Nutrition
Nutrition Facts
Fresh Mango Mojito Recipe 
Amount per Serving
% Daily Value*
* Percent Daily Values are based on a 2000 calorie diet.
Variations: Customizing the Taste
The sweet, juicy fruit pairs perfectly with the other ingredients in the drink, and it can even be used in place of the lime. For a truly tropical flavor, try adding some fresh mango to your mojito.
You can also muddle the fruit with the mint leaves to release more of its flavor. And if you want to go all out, try using mango-flavored rum.
Regardless of how you choose to customize it, a mango mojito is sure to be a delicious way to enjoy this summertime favorite.
Benefits: Health Advantages of mango mojito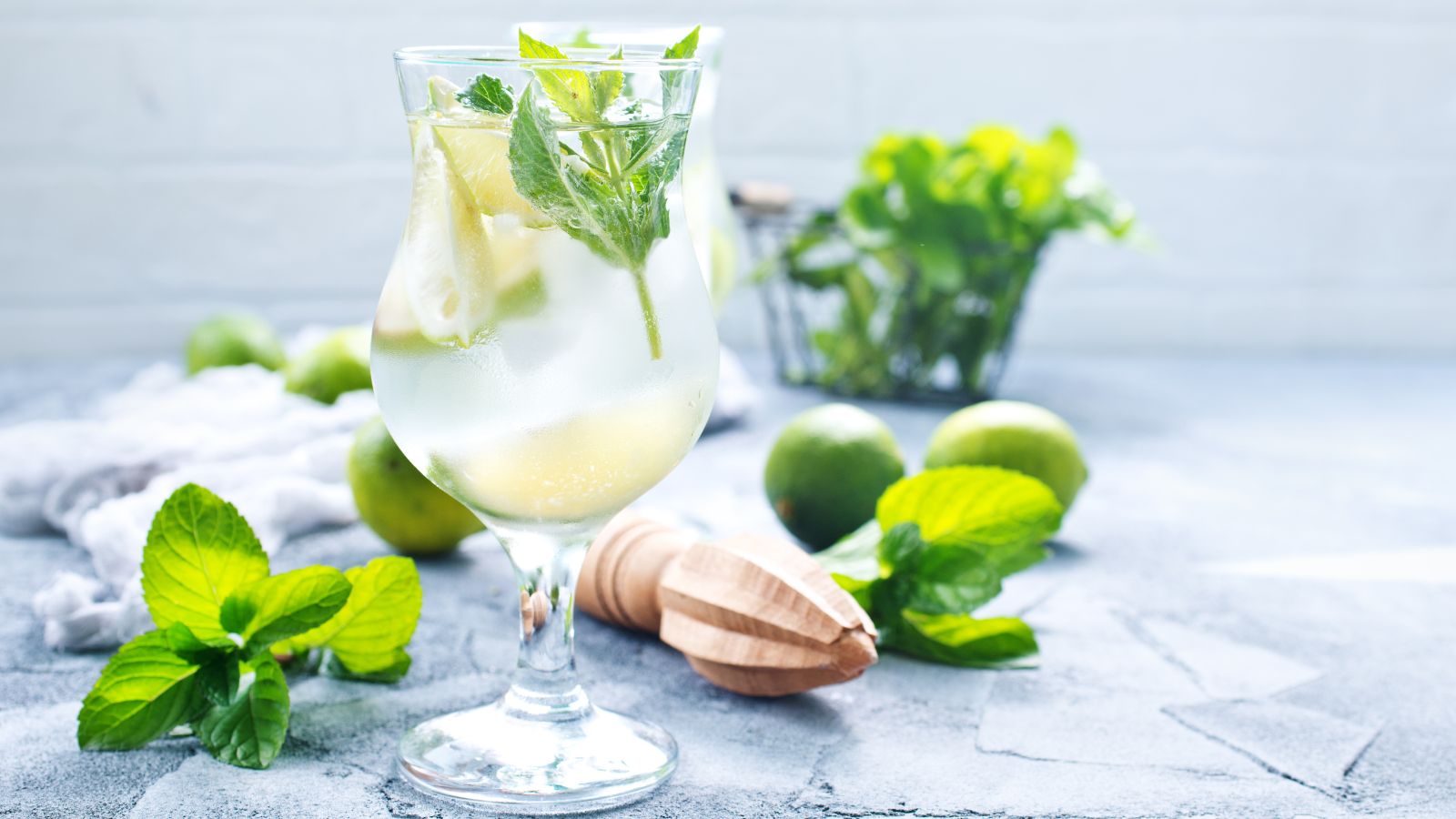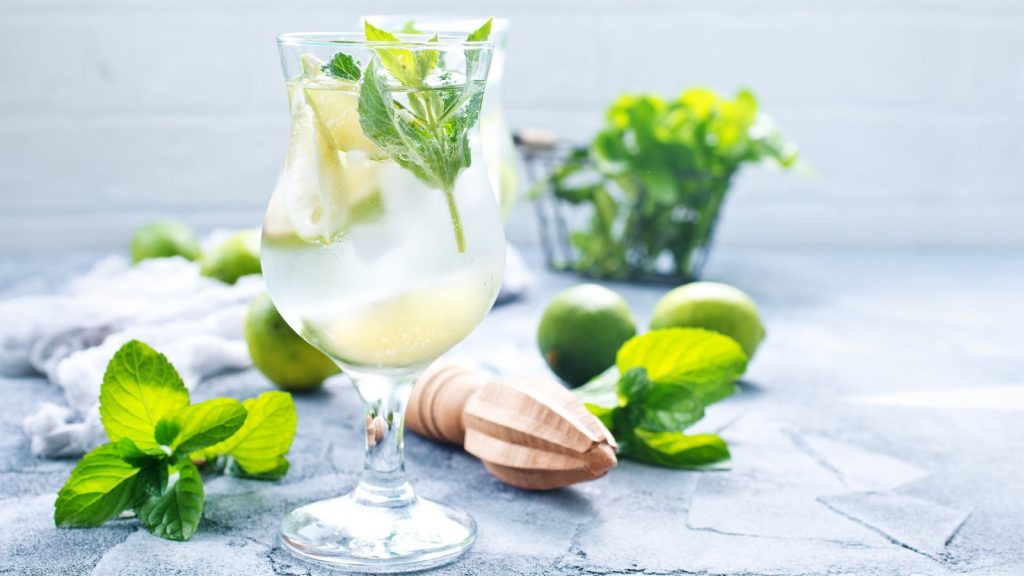 1. Aids in Digestion
The fiber content in mangoes helps to regulate the digestive system and prevents constipation. The enzymes present in mangoes also help to break down proteins.
2. Boosts Immunity
Mangoes are a good source of vitamins A and C, which are both essential for boosting Immunity. Vitamin C helps to fight off infection, while vitamin A is important for maintaining healthy skin and eyes.
3. Improves Eye Health
Mangoes are also a good source of beta-carotene, which the body converts into vitamin A. Vitamin A is important for maintaining healthy vision and preventing age-related macular degeneration.
4. Lowers Cholesterol
The fiber and pectin content in mangoes helps to lower cholesterol levels and prevent heart disease. Additionally, the antioxidants present in mangoes help to protect the heart from damage.
5. Prevents Cancer
Mangoes contain antioxidants that help to protect the body against cell damage and prevent Cancer.
Tips for Making Perfect Mojitos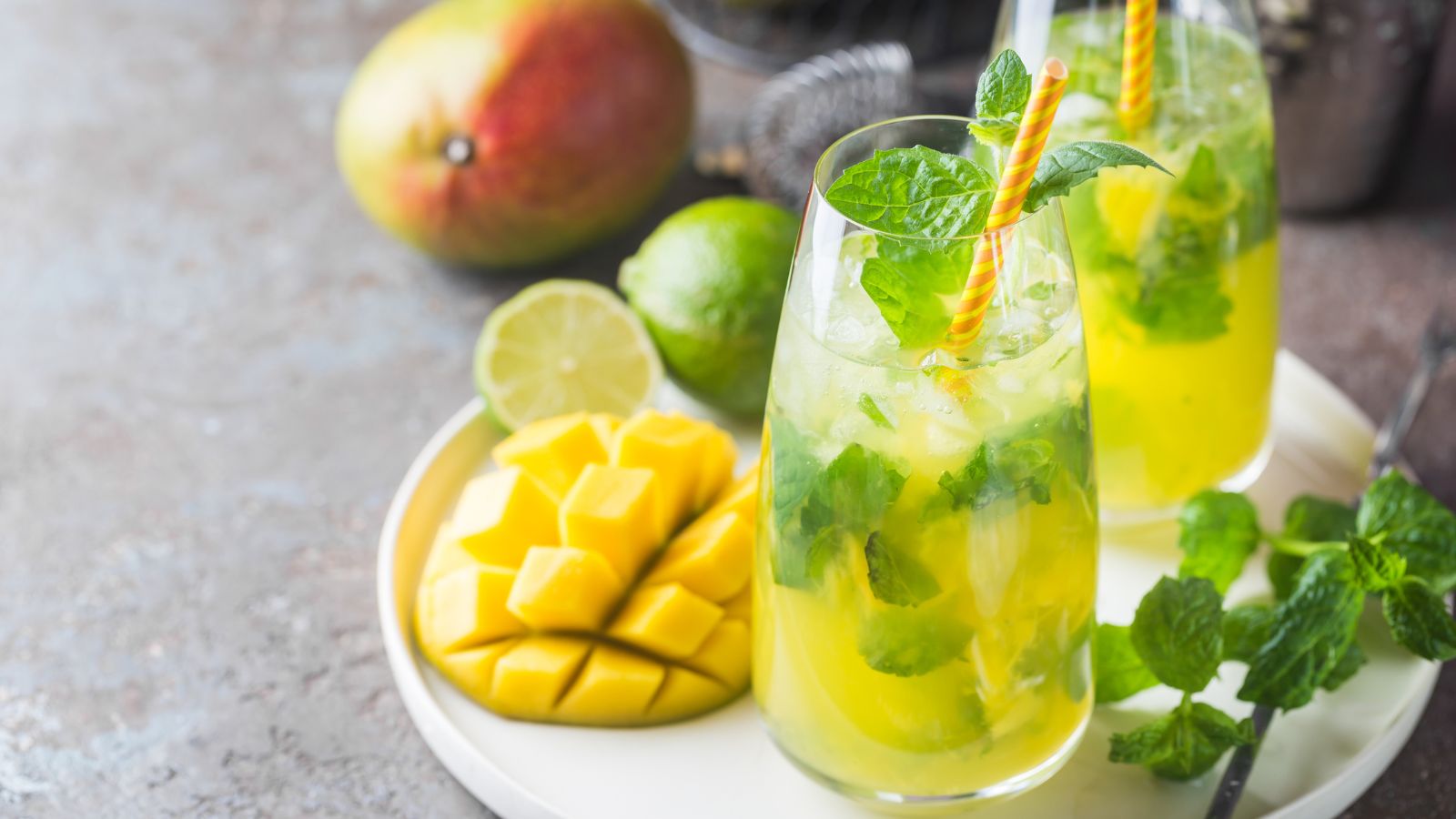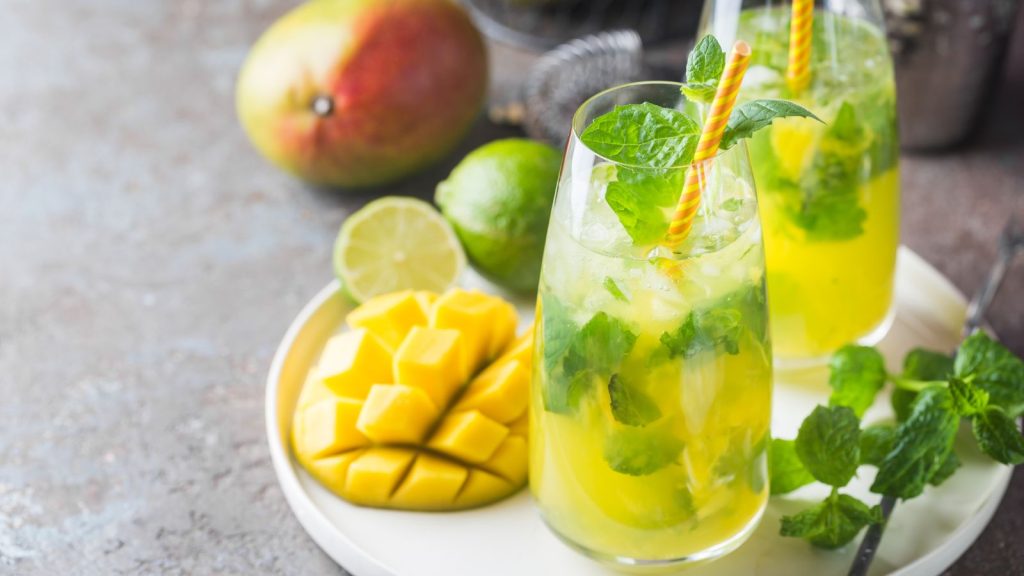 1. Use fresh mint leaves
One of the most important ingredients in a mojito is mint, so it's important to use fresh mint leaves rather than dried mint or mint extract. If you can't find fresh mint, you can try using spearmint leaves instead.
2. Muddle the mint leaves
Before adding the other ingredients, you'll need to muddle the mint leaves in the bottom of the glass. This will release their flavor and aroma into the drink.
3. Add lime juice
The next ingredient is lime juice, which adds tartness and sweetness to the drink. You can use fresh-squeezed lime juice or bottled lime juice.
4. Add sugar
Mojitos are typically sweetened with sugar, so you'll need to add sugar to taste. You can use white sugar, brown sugar, or simple syrup.
5. Add rum
The type of rum you use will affect the flavor of your mojito, so experiment with different types to find one that you like. White rum is a good choice for a classic mojito, but you can also use spiced rum or dark rum.
6. Fill with club soda
After adding the rum, you'll need to fill the glass with club soda. This will help to dilute the drink and make it refreshing.
7. Garnish with a lime wedge
Finally, garnish your mojito with a lime wedge, and enjoy!