Looking for the perfect beverage to accompany your holiday festivities? Look no further than the cranberry french 75. This festive cocktail is easy to make and sure to please everyone at your party. Read on for recipe instructions!
The history of the French 75
The French 75 is a classic cocktail that has been enjoyed for over a century. The drink is said to have originated at the New York Bar in Paris, which was frequented by American expatriates during the 1920s.
The bar was known for its "75 Cocktail," which was made with gin, Champagne, and lemon juice. The drink was so popular that it soon spread to other bars and restaurants in the city.
During the Prohibition era, the French 75 became a popular choice for illicit drinking, as the bubbles helped to disguise the taste of the gin.
Today, the French 75 is still a popular choice for celebrations and special occasions. The refreshing combination of gin and Champagne makes it a perfect way to toast to good times. Cheers!
Why You'll Love This Recipe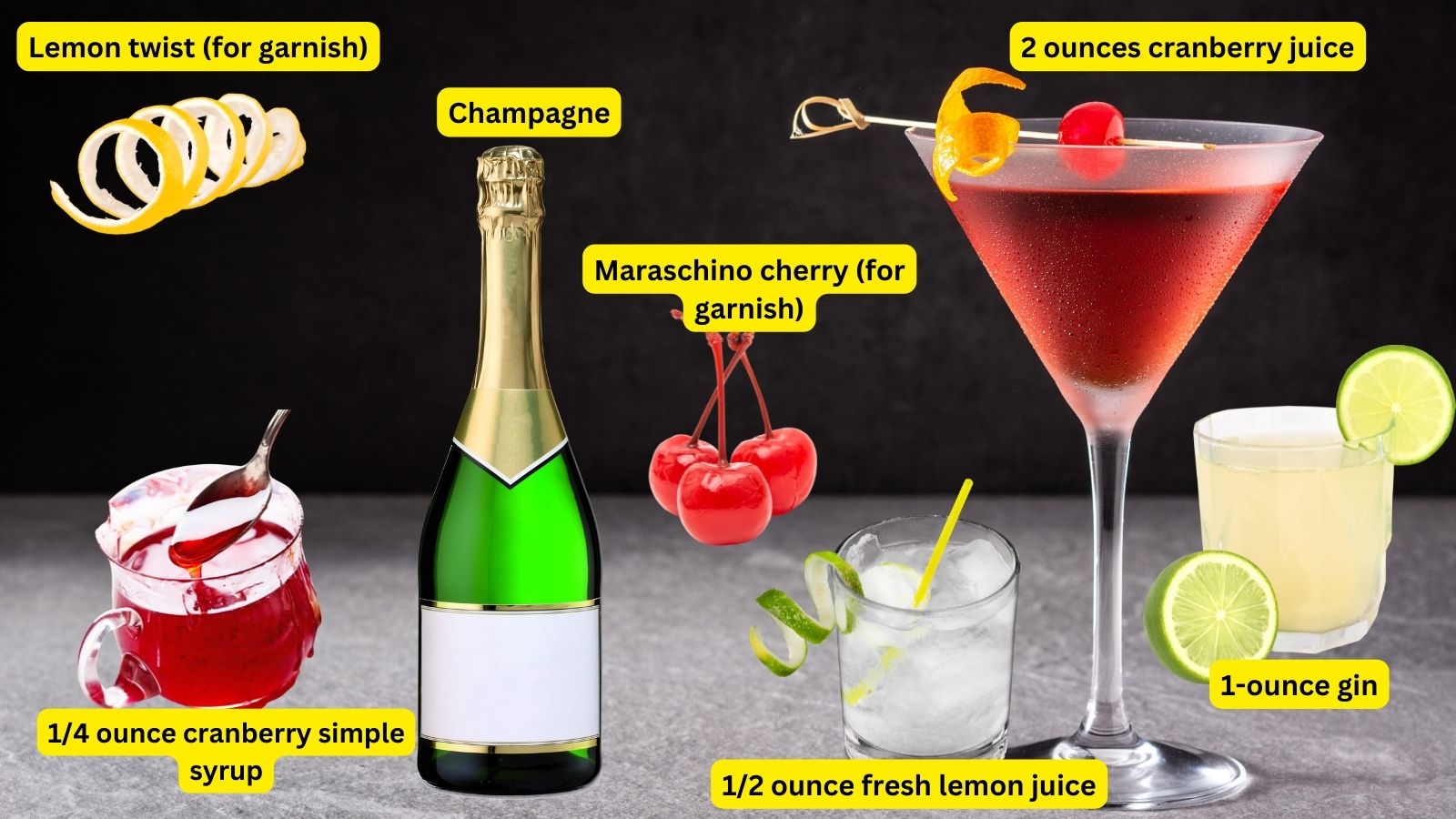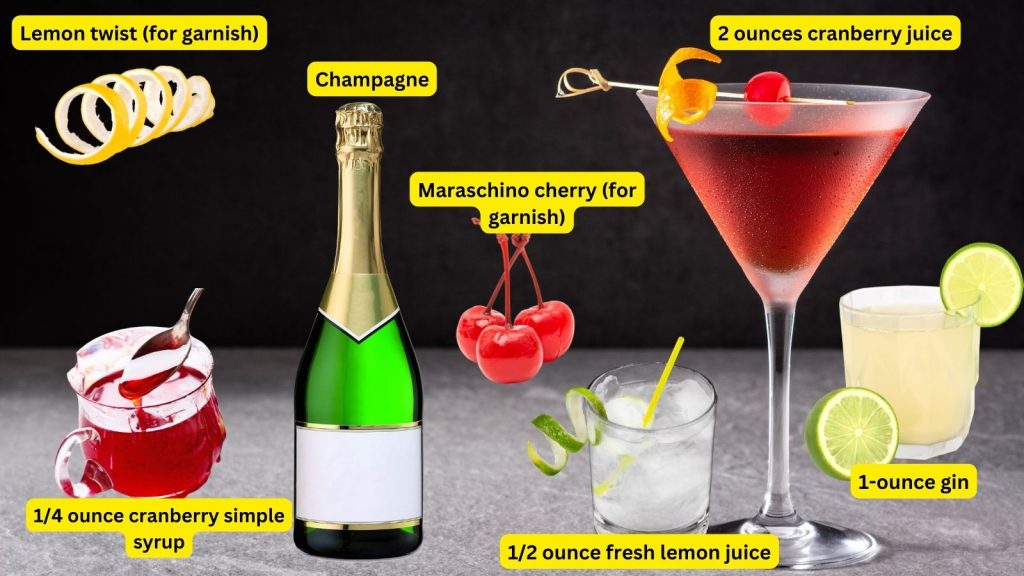 It is time to get into the Christmas spirit with cranberry French 75s. This festive take on the classic cocktail is perfect for your holiday party or New Year's Eve celebration.
With a sweet and tart cranberry twist, these cocktails are sure to be a hit! Cheers!
It is full of flavor. This season you can enjoy this drink if you are a fan of champagne cocktails.
Also, like my other cranberry spice Christmas mimosa, chai cranberry bourbon smashes, and sparkling cranberry margarita, cranberries are the hot fruit to enjoy with your loved ones.
It will help those who want to enjoy the holiday festive time with the freshest ingredients. Some other benefits of making this recipe include:
1. The Beautiful Pink Color
A French 75 made with cranberry juice is a beautiful pink color that is perfect for any occasion. Whether you're making them for a holiday party or a romantic dinner, they're sure to impress your guests.
2. The Delicious Flavor
Cranberry French 75s are not only beautiful, but they're also delicious. The tartness of the cranberries pairs perfectly with the sweetness of the champagne, and the gin gives it a nice kick.
3. They're Easy to Make
These cocktails are also very easy to make. You can make them ahead of time and store them in the fridge until you're ready to serve them. All you need is cranberry juice, champagne, gin, and sugar.
4. They're Perfect for Any Occasion
Whether you're hosting a party or just want to enjoy a special cocktail with someone you love, cranberry French 75s are a perfect choice. They're festive, romantic, and sure to please everyone who tries them.
Ingredients You need for cranberry French 75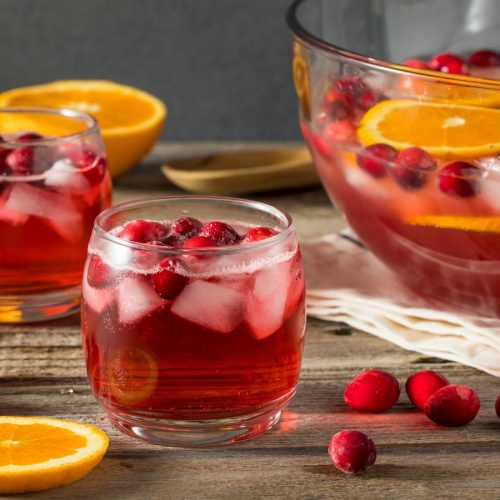 The Cranberry French 75 Recipe
If you're looking for a festive drink that's a little bit different, why not try a cranberry french 75? This cocktail is easy to make and perfect for parties. Plus, it's sure to impress your guests! Keep reading for the recipe.
Print
Pin
Ingredients
1-

ounce

gin

1/2

ounce

fresh lemon juice

1/4

ounce

cranberry simple syrup

2

ounces

cranberry juice

Champagne

Lemon twist

for garnish

Maraschino cherry

for garnish
Instructions
Pour Gin, cranberry juice, Champagne, cranberry simple syrup, lemon twist and little bit brown sugar (if you want sweet taste touch) into a shaker filled with ice.

Shake well and strain into an old fashioned glass.

Float the sugar cubes on top.

Garnish with Maraschino cherry and enjoy.
Nutrition
Nutrition Facts
The Cranberry French 75 Recipe
Amount per Serving
% Daily Value*
* Percent Daily Values are based on a 2000 calorie diet.
Gin- The type of gin you use is up to you, but we recommend a London dry gin like Beefeater or Tanqueray.
Lemon Juice- Freshly squeezed lemon juice is always best, but you can also use bottled lemon juice if necessary.
Simple Syrup- You can either make your simple cranberry syrup or buy it at the store. To make simple syrup, just combine equal parts sugar and water with cranberry in a saucepan and heat over medium heat until the sugar has dissolved. You can use store it and use it for any recipe in the future.
Cranberry Juice- You can use either fresh or canned cranberry juice for this recipe. If using fresh cranberry juice, be sure to strain it to remove any pulp or seeds.
Champagne- We recommend using dry champagne like Veuve Clicquot or Moet & Chandon for this recipe, but any type of champagne will work.
Lemon Twist (for garnish)- This is optional, but a lemon twist makes a nice garnish for this cocktail. To make a lemon twist, cut a strip of peel from the lemon using a vegetable peeler. Then, twist the strip of peel into a spiral and place it in the glass.
Maraschino Cherry (for garnish)- This is also optional, but a maraschino cherry makes a nice garnish for this cocktail
How to make a cranberry French 75-Step By-Step Guide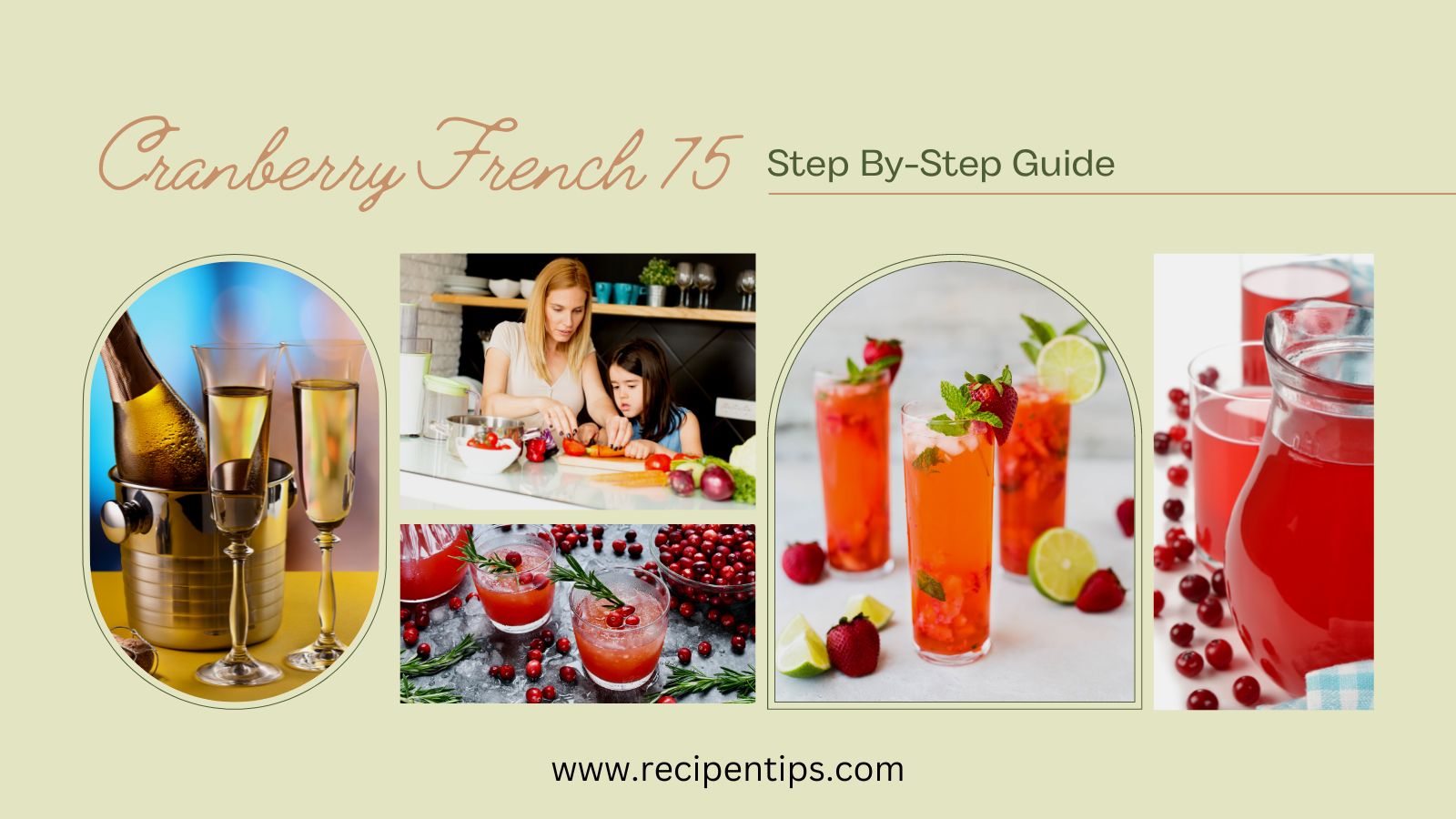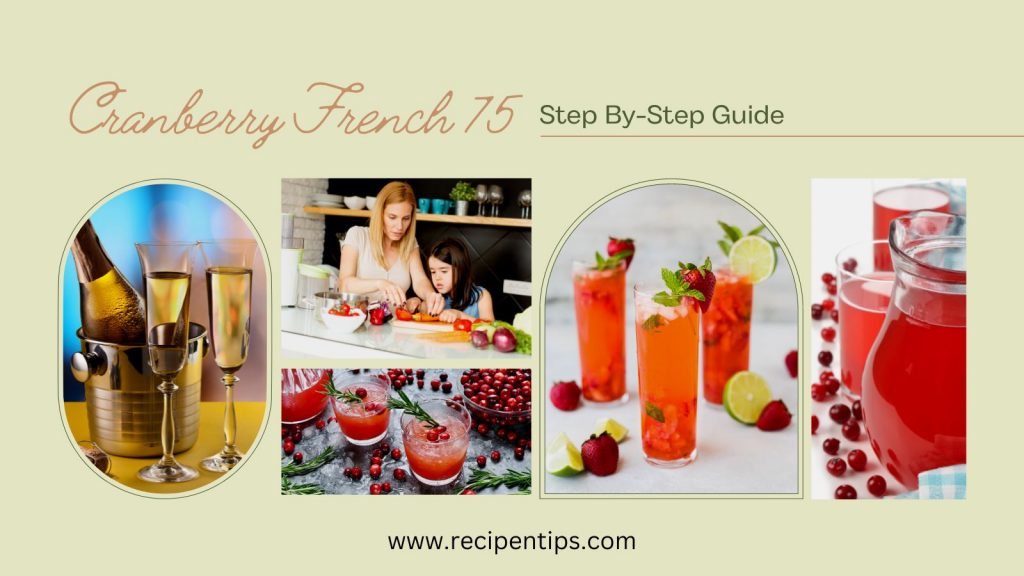 French 75 is a classic cocktail that is perfect for any occasion. While they may look fancy, they are quite easy to make.
The key to a perfect French 75 is using fresh ingredients and taking the time to properly chill the champagne. Here is a step-by-step guide to making a cranberry French 75:
Start by chilling a bottle of champagne in an ice bucket.
While the champagne is chilling, combine gin, cranberry juice, and lemon juice in a shaker filled with ice.
Shake well and strain into a chilled glass.
Top with champagne and garnish with a cranberry or lemon twist.
Enjoy!
Variations on the recipe
One easy way to do this is to swap out the gin for another type of alcohol. Vodka, rum, or tequila all make great substitutes.
Or, if you're feeling adventurous, you could try using absinthe or mezcal.
If you want to give your drink a fruity twist, you could muddle some fresh cranberries in the bottom of the glass before adding the other ingredients.
You could also add a splash of cranberry juice or use cranberry-infused gin. And, of course, no cocktail is complete without a garnish.
For a French 75, a lemon twist is traditional, but you could also use an orange peel or a cherry.
Whatever variations you choose, we hope you enjoy your very own cranberry French 75! Cheers!
Serving suggestions
Serve it in style by pairing it with some small bites such as canapés, sushi, or mini quiches. Your guests will be impressed by your creativity and might just be inspired to try making their cranberry French 75s at home. Cheers!
Recipes that use cranberries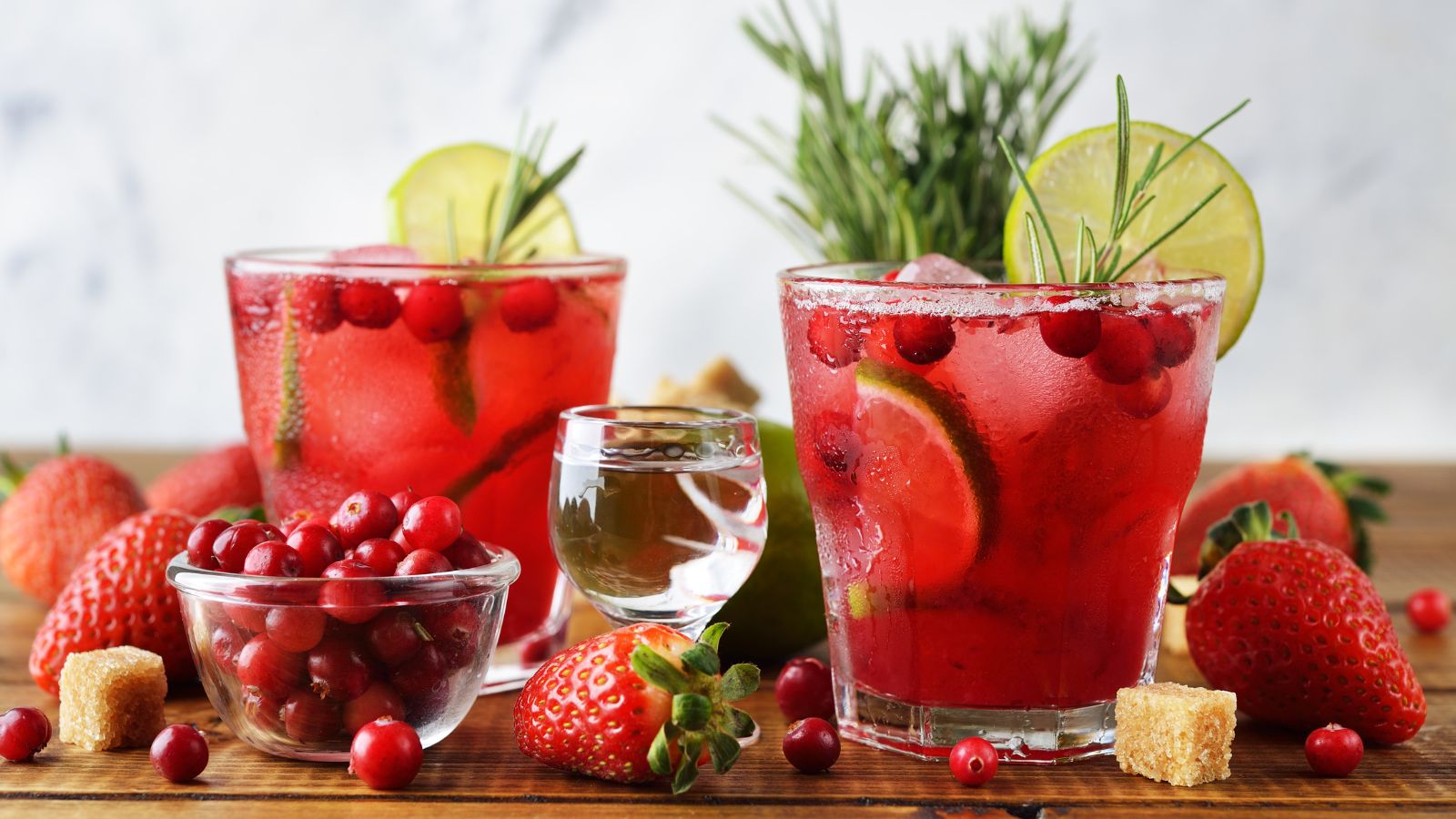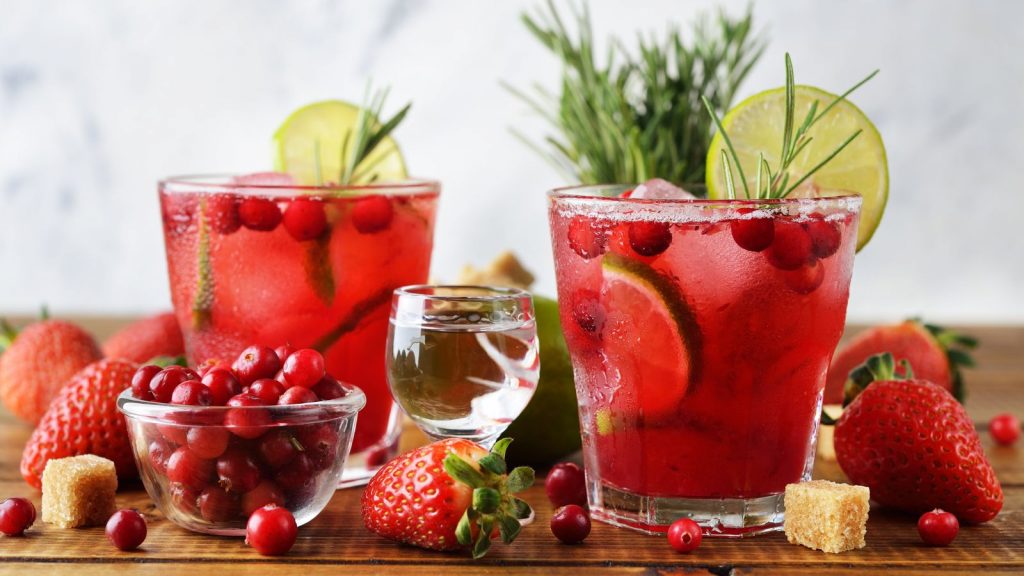 1. Classic Cranberry French
This variation on the classic French toast recipe uses cranberry bread and is served with cranberry syrup.
2. Cranberry French Toast Casserole
This dish is made by layering cranberry bread, eggs, milk, and spices in a baking dish and then baking it until golden brown.
3. Cranberry French Toast Bake
This recipe is similar to the casserole, but it also includes diced ham and shredded cheese in the layers.
4. Pumpkin Cranberry French Toast
This variation uses pumpkin bread in place of cranberry bread and is served with maple syrup.
5. Blueberry Cranberry French Toast
This version of the dish uses blueberry muffins in place of cranberry bread and is served with blueberry syrup.
FAQs on Cranberry French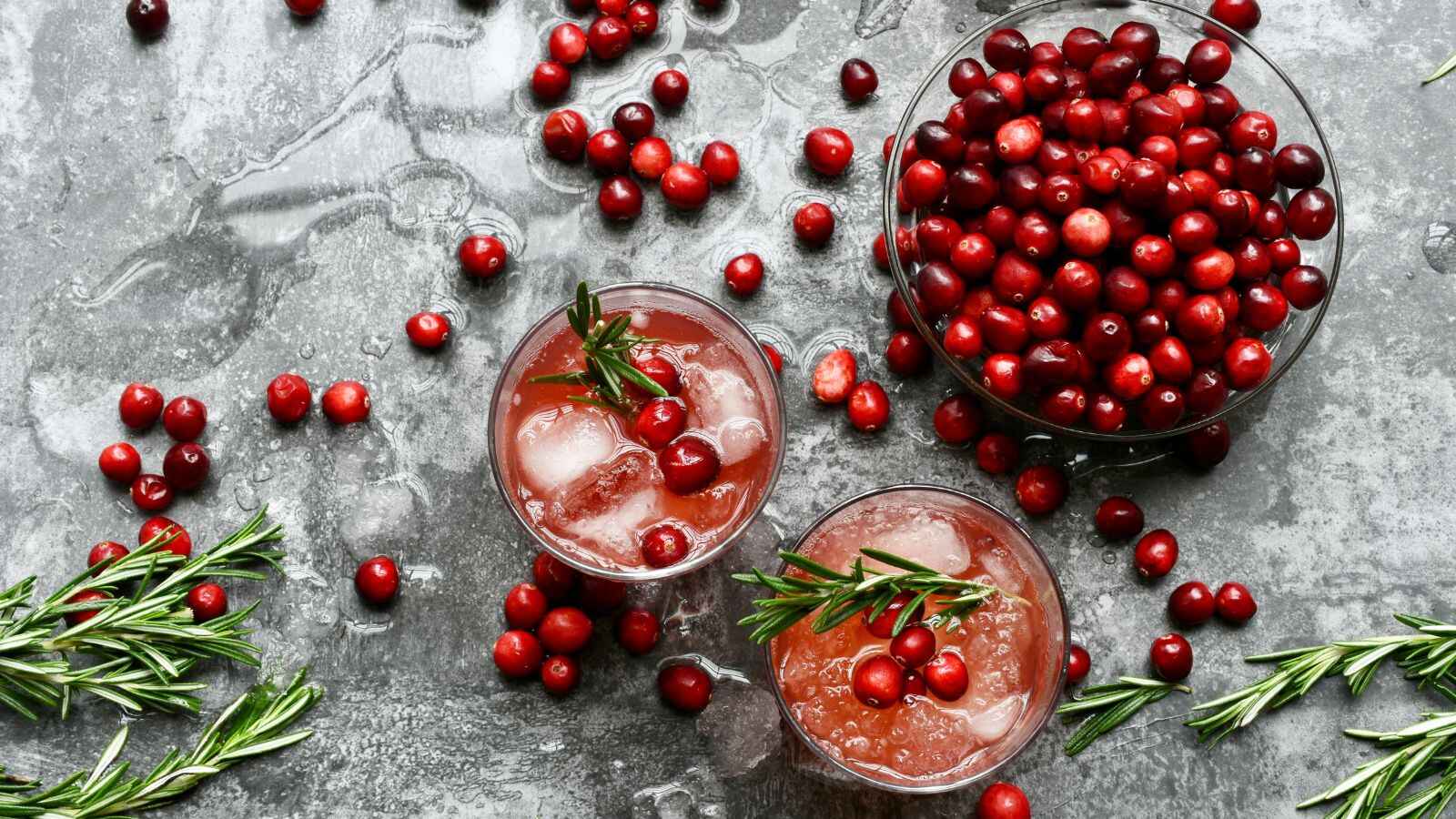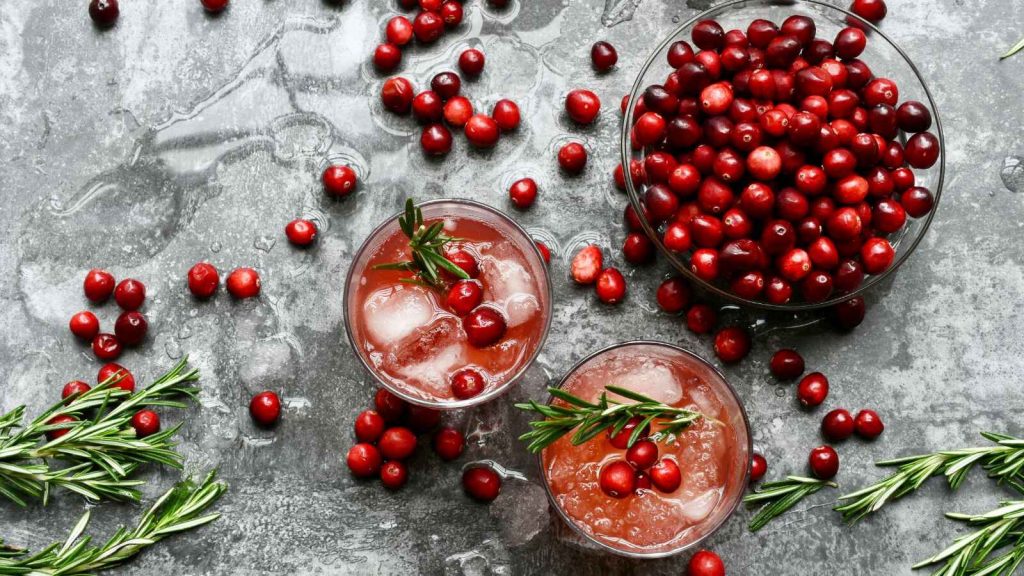 Q1. Do whiskey and cranberry go together?
The tart, juicy flavor of cranberries pairs well with the rich, smoky taste of whiskey. The sweetness of the cranberry juice helps to temper the bite of the whiskey, while the bold flavors of the spirit help to highlight the fruit's natural acidity.
In addition, the ruby-red color of cranberries is illuminated when mixed with whiskey, making for a beautiful cocktail.
Q2. What is a French 75 in French?
The drink is named after the French 75mm field gun, which was used during World War I. The cocktail was supposedly first created in 1915 at the New York Bar in Paris.
The bar was later renamed the Hemingway Bar, and the cocktail has been a staple there ever since. While the origins of the French 75 are unclear, the drink has become a classic of both American and French mixology.
Q3. What food goes well with French 75?
A French 75 is a classic cocktail made with gin, champagne, and lemon juice. While it is often served as an aperitif, it can also be enjoyed with a meal.
When pairing food with a French 75, it is important to consider the drink's sweetness and acidity.
For example, fried chicken or pork chops would be delicious with the sweetness of the champagne, while a salad with vinaigrette would pair well with the drink's refreshing acidity.
No matter what you choose to eat with your French 75, be sure to enjoy it responsibly!
Q4. What does a French 75 taste like?
The drink gets its name from the fact that it is traditionally served in a champagne flute, and it is said to have the same effect as being hit by a French 75mm artillery shell.
While the recipe for the French 75 varies depending on who you ask, it typically includes gin, lemon juice, sugar, and champagne. The drink is refreshing and light, making it the perfect choice for any occasion.
Q5. What's the best Champagne for a French 75?
While any champagne will work for this drink, there are a few that work particularly well. For example, Veuve Clicquot Yellow Label is a great option.
It has a lively acidity that pairs well with the gin, and the notes of stone fruit and citrus make it refreshing and well-rounded. Another good choice is Champagne Nicolas Feuillatte Brut Reserve.
This champagne is fruity and bright, with a touch of creaminess that helps to balance out the drink.
Q6. Can you make a French 75 in a pitcher ahead of time?
The key to making a great French 75 is to use fresh ingredients and not let the drink sit for too long. If you're planning on making a pitcher ahead of time, follow these steps.
First, combine the gin, lemon juice, and simple syrup in a pitcher.
Next, add sparkling wine or prosecco.
Finally, add a few drops of orange bitters. Stir gently and serve immediately. Cheers!