Christmas is a time for traditions, and one of our family's favorites is making gingerbread tiramisu. This dish combines the traditional flavors of gingerbread and coffee with the creamy sweetness of mascarpone cheese, creating a delicious holiday treat. Best of all, it's easy to make! Here's how:
Christmas gingerbread tiramisu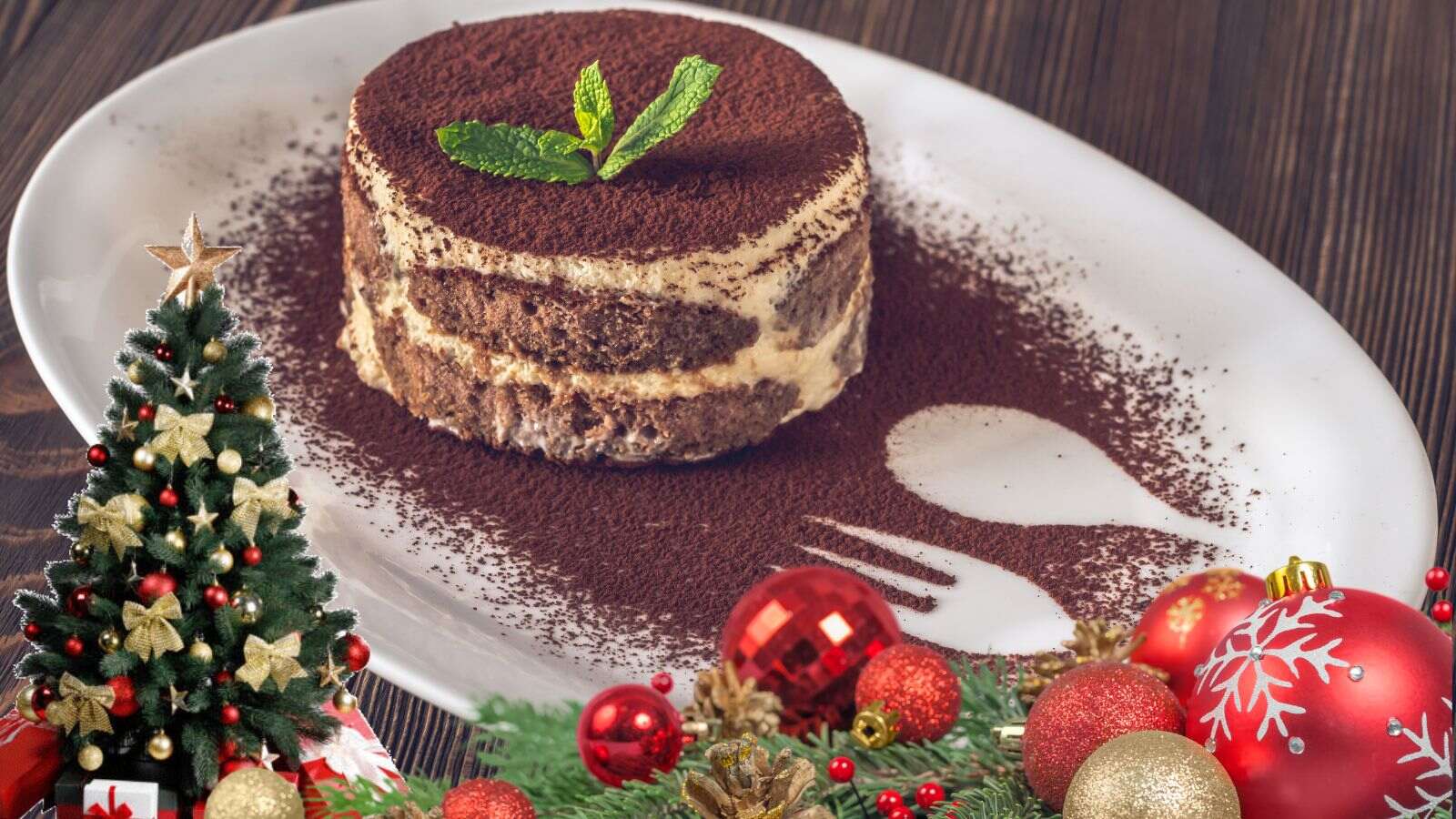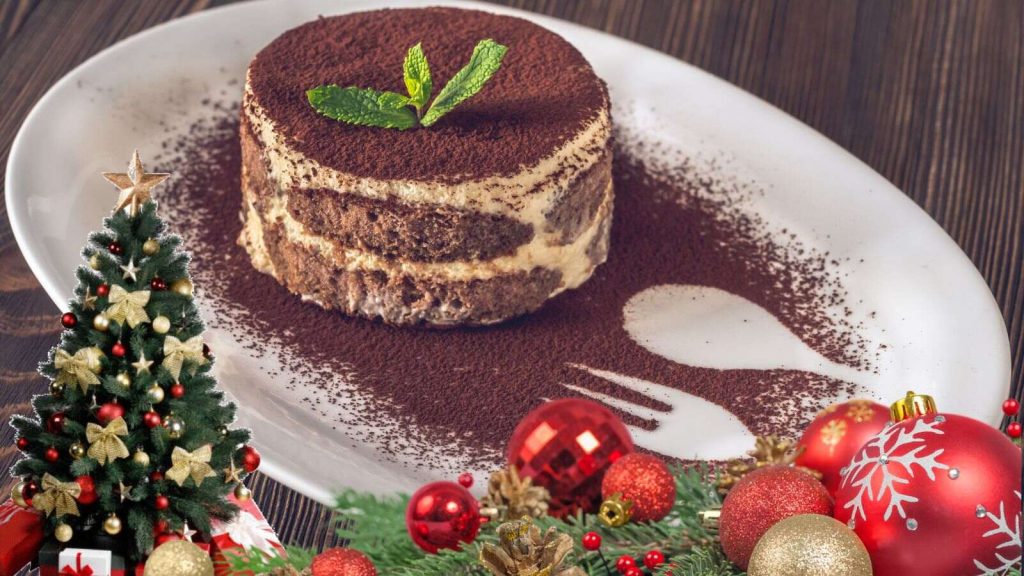 Tiramisu is a classic Italian dessert that typically consists of coffee-soaked ladyfingers layered with rich mascarpone cream. However, there are endless variations of this classic recipe.
For a festive twist, why not try making gingerbread tiramisu? The bold flavor of gingerbread pairs perfectly with the creamy mascarpone, and the addition of cranberries and pistachios gives the dish a beautiful holiday color palette.
What is tiramisu?
Tiramisu is a coffee-flavored Italian dessert. It is made of ladyfingers dipped in coffee, layered with a whipped mixture of eggs, sugar, and mascarpone cheese, and flavored with cocoa.
The history of tiramisu
The origins of tiramisu are disputed, though it was likely created in the 1960s or 1970s in the Veneto region of Italy. Despite its relatively recent history, tiramisu has become one of the most popular desserts in Italy and worldwide.
Thanks to its simple yet decadent flavor, tiramisu is often described as "heaven in a bite."
Why You will love Christmas gingerbread tiramisu
The holidays are a great time to indulge in your favorite desserts, and what better way to do that than with a Christmas gingerbread tiramisu? This festive twist on the classic Italian dessert is made with gingerbread cookies, mascarpone cheese, and coffee-soaked ladyfingers, and it's sure to be a hit with your family and friends.
One of the best things about this dessert is that it can be made ahead of time, so you don't have to stress about last-minute preparations on Christmas Day. Assemble the tiramisu the night before and refrigerate it until you're ready to serve.
Another great thing about this tiramisu is that it's not too sweet, so you can enjoy it without feeling guilty about indulging in a holiday treat. The gingerbread cookies add just the right amount of sweetness, while the mascarpone cheese and coffee-soaked ladyfingers provide a rich and creamy base.
This tiramisu is also surprisingly easy to make, so you won't have to spend hours in the kitchen prepping and baking. The hardest part will be waiting for it to set in the fridge!
Once you've tried this Christmas gingerbread tiramisu, you'll never go back to the traditional version. It's the perfect holiday dessert for anyone who loves gingerbread cookies or coffee or wants to try something new.
So, what are you waiting for? Get started on your Christmas gingerbread tiramisu today! You won't regret it.
Merry Christmas!
Ingredients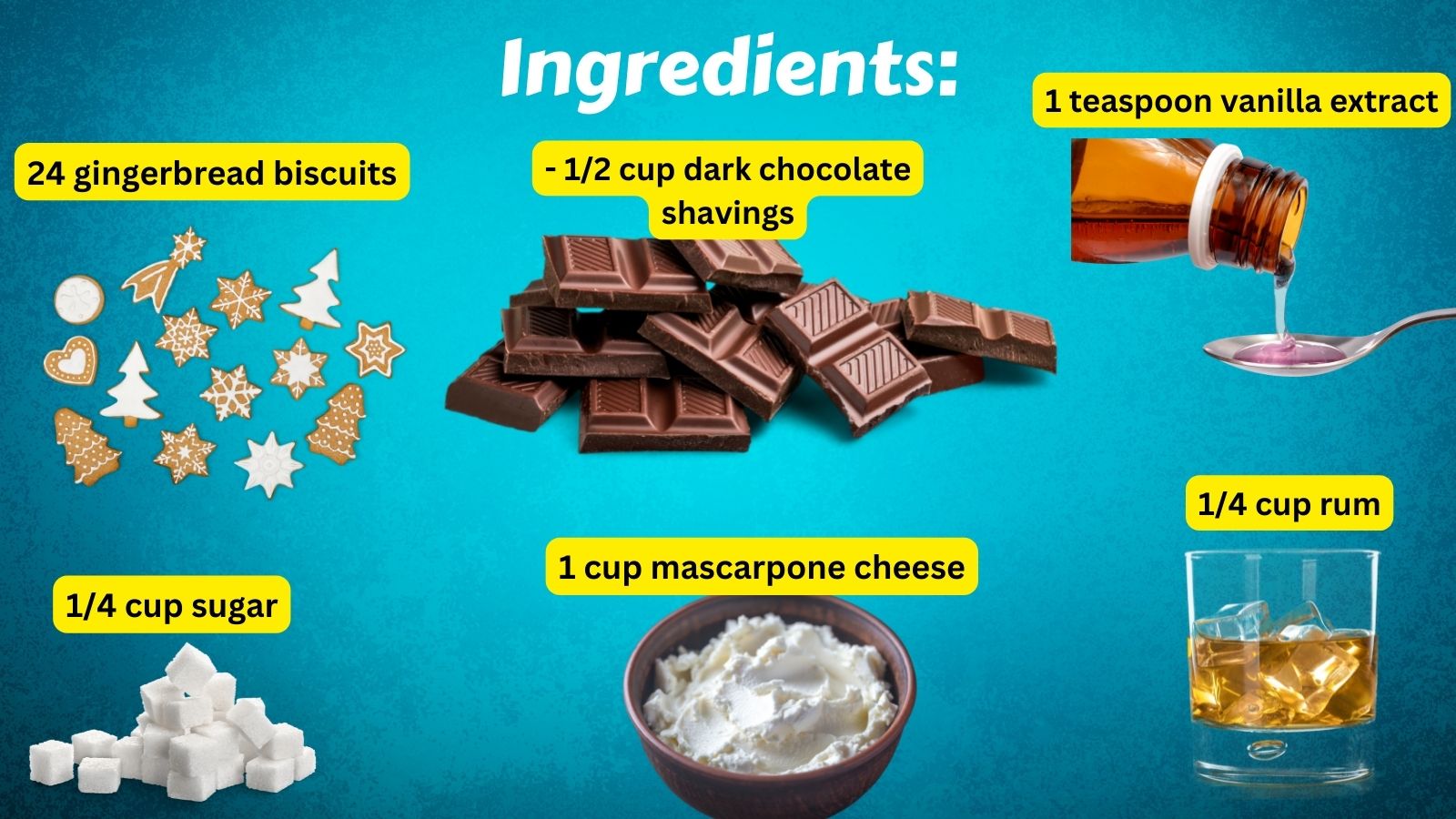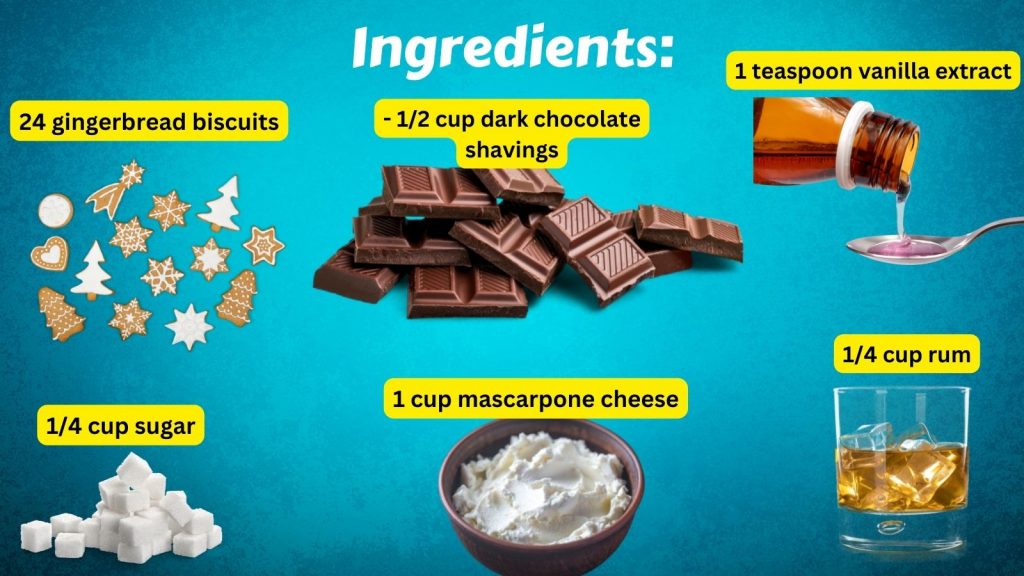 Ladyfingers
Ladyfingers are a type of biscuit that is often used in tiramisu. Ladyfingers are made from a batter typically made from eggs, sugar, flour, and baking powder. The batter is then piped into finger-shaped molds and baked until golden brown.
Mascarpone Cheese
Mascarpone cheese is an Italian cheese that is often used in tiramisu. Mascarpone cheese is made from cream that has been thickened with citric acid or lemon juice. The resulting cheese is rich and creamy, with a slightly sweet flavor.
Espresso
Espresso is a type of coffee that is strong and concentrated. It is typically made by forcing hot water through finely-ground coffee beans. Espresso is used in tiramisu to add flavor and depth to the dish.
Cocoa Powder
Cocoa powder is made from dried and roasted cocoa beans that have been ground into a fine powder. It is used in tiramisu to add chocolate flavor and to create a dusting on top of the dessert.
Rum
Rum is a type of alcohol that is made from sugarcane juice or molasses. It is used in tiramisu to add flavor and depth to the dish.
Gingerbread Cookies
Gingerbread cookies are a type of cookie that is traditionally made with ginger, cinnamon, nutmeg, and cloves. They are often used as decorations on top of tiramisu or as a garnish on the side.
Whipped Cream
Whipped cream is made from cream that has been whipped with air until it forms stiff peaks. It is used in tiramisu to lighten the dish and add sweetness.
Step-by-step instructions for Christmas gingerbread tiramisu
Preheat oven to 375 degrees F (190 degrees C). Grease and flour a 9×13-inch baking pan.
Sift together the flour, ginger, baking soda, cinnamon, cloves, and salt. Set aside.
Cream together the margarine and sugar in a large bowl until light and fluffy. Beat in the eggs one at a time, then stir in the molasses. Gradually add the flour mixture to the creamed mixture until blended. Stir in the raisins and nuts. Spread evenly into the prepared pan.
Bake for 25 minutes in the preheated oven or until a toothpick inserted into the center of the cake comes out clean. Cool the cake before frosting.
To Make Frosting: Combine confectioners' sugar, cream cheese, butter or margarine, vanilla extract, and almond extract in a medium bowl. Beat with an electric mixer on low speed until combined, then increase speed to high and beat until light and fluffy. Spread over cooled cake.
The Recipe for Christmas gingerbread tiramisu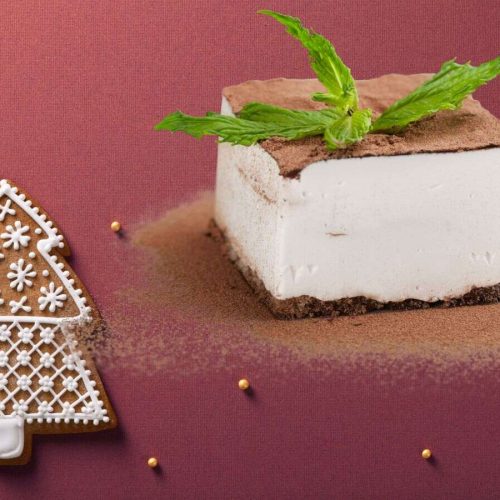 Christmas Gingerbread Tiramisu Recipe
Christmas gingerbread tiramisu is a holiday twist on the classic Italian dessert. It starts with a layer of gingerbread biscuit, followed by a layer of mascarpone cream. The gingerbread is soaked in coffee and rum, and the whole thing is topped with chocolate shavings. This festive treat is sure to get you into the Christmas spirit!
Print
Pin
Ingredients
1

cup

mascarpone cheese

1/2

cup

heavy cream

1/4

cup

sugar

1

teaspoon

vanilla extract

2

cups

brewed coffee

cooled

1/4

cup

rum

24

gingerbread biscuits

1/2

cup

dark chocolate shavings
Instructions
Start by whisking the mascarpone, cream, sugar, and vanilla extract until smooth.

In another bowl, mix the coffee and rum.

Dip the gingerbread biscuits into the coffee mixture, one at a time, until they are evenly coated.

Arrange the biscuits in the bottom of a glass or ceramic dish.

Spread half of the mascarpone mixture over the biscuits, and sprinkle with half of the chocolate shavings.

Repeat the layers, and refrigerate for at least 2 hours before serving.

Enjoy your Christmas gingerbread tiramisu!
Nutrition
Nutrition Facts
Christmas Gingerbread Tiramisu Recipe
Amount per Serving
% Daily Value*
* Percent Daily Values are based on a 2000 calorie diet.
Expert tips for Christmas gingerbread tiramisu
Combine the coffee and rum in a bowl and set aside.
Mix the mascarpone cheese, sugar, and vanilla extract in another bowl.
Dip the gingerbread cookies into the coffee mixture and then layer them into the bottom of a glass or serving dish.
Spread a layer of the mascarpone mixture over the cookies, then repeat the layering process.
Cover and refrigerate for at least 2 hours or overnight. 6. Serve chilled, garnished with shaved chocolate or cocoa powder, if desired.
Perfect Pairing
Tiramisu is a classic Italian dessert that combines coffee-soaked ladyfingers with rich mascarpone cream. While tiramisu can be made with any flavorings, gingerbread is a natural choice for Christmas.
The warm spices of gingerbread complement the coffee perfectly, and the addition of festive decorations makes this tiramisu an instant holiday classic.
Best of all, this tiramisu can be made in advance, freeing up time on busy holiday days. Whether you're serving it for dessert or as part of a holiday breakfast, this gingerbread tiramisu is sure to please.